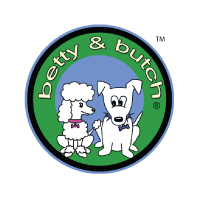 About Betty & Butch
Angel nagged Paul to death to get a dog, so inevitably he gave in and a trip to Manchester dogs' home was set for the next day.  Paul stipulated nothing bigger than a Jack Russell – as they walked through the shelter Angel spotted Duke, a Staffordshire Bull cross Doberman lying on the floor of the kennel, he was the only dog not barking and he did not even look up. Angel immediately fell in love with him. Paul made him walk around the kennels again but Angel had his mind made up. 
The home said he was found stray and eating bits of glass that had food on them so he underwent a stomach operation.  They also said he would have had to be put down as he was there so long, and he was suffering from depression. Duke slept on a comfy bed that night – it took nearly 3 months for Paul & Angel to get Duke to trust them and his depression took many weeks to lift fully.  He is 13 now and anyone who meets him falls in love with him.  He has puppy eyes and is always regal, his vet recently aged him at 6 due to his healthiness which the boys know is down to his diet and he is a great advertisement for their food.
We owe Duke everything for our determination to get him to good health and the desire to enhance all dogs' lives.
Could you be our next Franchisee?
For further information and contact details about this Franchise Opportunity, please click here.