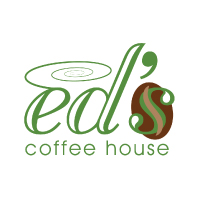 About Eds Coffee House
Welcome to Eds Coffee House, where you will find a selection of regional and flavoured coffees.  Here at Eds Coffee House we aim to meet the needs of coffee lovers everywhere.  We aim to make every encounter a personal one for our customers, listening to their preferences and suggesting a range of coffees that would best suit their personal requirements and taste.
The business came into being because we all have a real passion for coffee and it's many variations of flavours, strengths and unique attributes.  We had trouble finding the variety of coffees we wanted in small enough quantities for us to be able to try for ourselves.  This led us to develop our idea and eventually turn it into the business it is now.
At Ed's Coffee House you select the coffee you want and purchase as little as 100g to take home to try, to see if it is the coffee for you.  We are able to help and advise our customers so that they can make an informed decision about their purchases, tailoring their individual preferences to their purchase.
If you have tried a coffee that you like and you have been unable to find it then come along to Ed's Coffee House and we will do our best to source it for you.
Our stock of coffees cover a wide range of different coffee producing areas.  we have coffees from Kenya, Brazil, Columbia, Ethiopia, Guatemala, Costa Rica, Indonesia and many more besides.  We also stock a good variety of flavoured coffees including the popular Irish Cream, French Vanilla, Maple Walnut, Rum, Amaretto and lots of others.
We supply our coffees in whole beans, which we can grind to your requirement, or we also have a good range of speciality instant coffees, both flavoured and regional.
We also hold a variety of coffee making equipment including French Press, Continental, Drip Filters, grinders, mugs and many other coffee accessories, to aid you in producing your desired coffee experience.
Come and visit us at our location on Coventry Indoor Market, close to the Lower Precinct entrance, or via e-mail following the contact us tab above.  We look forward to meeting you soon.
Could you be our next Franchisee?
For further information and contact details about this Franchise Opportunity, please click here.