ALL The Necessary Franchising Documents
This is where you can buy professional legal franchising documents in a franchise template format, which can be easily customised to meet your business's individual requirements. Available at a fraction of the cost to save you both time and money. Others charge £2999 plus vat  we charge £1999 plus vat and you also get:
Continuous email & telephone support – plus Zoom & Skype
Legal support & questions answered
When you've completed the documents send them back & we will critique them for you
Play Video
Franchise Your Business DIY
Simply edit the franchise templates to create a legally binding agreement.
I am often asked, "Why pay when I can download something like this elsewhere for free?"
Quite simply, you will not find similar quality, legal franchising documents anywhere for free, you only get what you pay for. We produce professional franchising documents and if you are not completely satisfied, we are happy to refund your money – Rod Hindmarsh 
The Complete Professional Franchising Documents Service
Individually worth £4491 together available for £1999 + VAT
WHAT'S INCLUDED?
Free Advert On www.fn24.news
Business Plan Template
Draft Daily Procedure Document
Draft Advertising & Marketing Manual
Draft Personnel & Staff Manual
All documents can be bought individually for £499 plus VAT
Please find below a brief outline of the most important documents included the Complete How2Franchise DIY Programme.
Operations Manual
Franchise Agreement
Marketing Programme
Health & Safety (Risk Assessment Manual)
How2franchise Manual
Business Plan Template
Draft Daily Procedure Document
Draft Advertising & Marketing Manual
Draft Personnel & Staff Manual
4 Easy Steps to Franchise Your Business
These Franchise Documents has been developed to cut the cost of franchising. We've eliminated the waffle and overcharging. Save up to 95% on your costs! Our complete programme costs £1,999. Use a consultant and it could cost anything from £10,000 to £20,000. We supply all the necessary documents you need to Franchise Your Business at a fraction of that cost. Franchise consultants and franchise experts.
4 Easy Steps to Franchise your business. First purchase our How2franchise business manual, which guides you through franchising, then you can move on to purchase the Operations Manual, which contains documents showing you how to run your franchise. Our Franchise Agreement is the legal framework to franchising your business, and our Marketing package will show how to attract and sell to new franchisees.
Step 1
How To Franchise Manual:
A brilliant 294-page step by step guide on how to franchise your business.
Full of helpful tips and trade secrets, save £1000's in time & advice with this fantastic manual including never told before trade secrets. Why pay a consultant?
Step 2
Operations Manual:
Our specialists have taken over 20 years to develop this manual which is flexible & covers all aspects of business operations. The manual contains 294 pages. You will save countless hours researching, writing and editing documents. A Super Manual SAVES OVER £10,000 IN FEES This manual has been written to suit any business type and can be edited to your individual business easily.
Step 3
Franchise Agreement:
The franchise agreement has been developed by our experts. Covering of all items necessary to secure your franchise business, the agreement is 20 pages long. Buy it today & get a free confidentiality agreement. Buy now & enjoy a fabulous saving of up to £5,000 of solicitors fees. This is essential for any franchisor who wishes to setup a successful franchise network to ensure that all franchisees follow the same rules & procedures.
Step 4
Marketing Programme:
We supply you with a complete & flexible franchise information brochure layout describing your franchise, consisting of 5 x 6 page templates.
Order today and get free our total how to market your franchise programme, full of trade secrets worth a saving of £1,000 in marketing & design fees.
Plus a FREE advert on www.fn24.news worth £1000
The Benefits of Our Franchise Templates
Cost Effective on
Time & Money Spent
Telephone &
Internet Support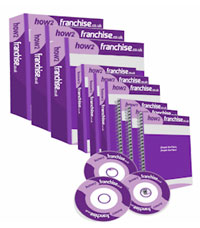 This Package Is Worth Over £15,000 – £20,000 Of Time & Advice, This Represents Real Value.
This is a Safety and Health Programme Manual template plus a Risk Assessment Manual; you can very easily edit and make it more Company specific. Franchise Manual incorporates the whole range of Operations, Legal, Human Resources and Health & Safety Franchise Document Templates – get easy, fast results!
If you want to find out about our Franchise my Business services, or if you would like a free review of your business without cost or obligation, contact us today.